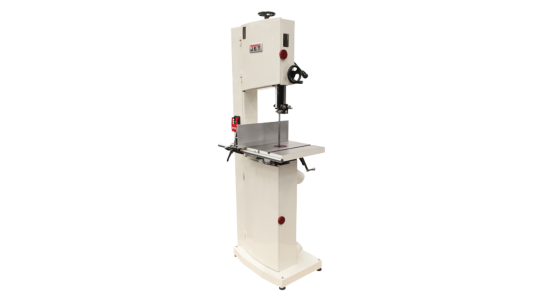 I had an opportunity recently to visit with JET/Powermatic in Nashville, Tennessee. They introduced a few new tools: Powermatic PM1000 Table Saw, JET 14″ Steel Frame Band Saw, and soon to come, a 10″ low-speed bench grinder and a couple of new midi lathes.
But what was most interesting was a chat I had with their engineer, Barry. He said that from a design perspective, they're really paying attention to details and a potential buyer's first impressions. He reiterated what others in the product design industry have noted: Your decision to buy or not to buy a product is really made within the first few seconds of seeing it.
JET tools are made overseas in Taiwan. Most manufacturers are content to paint the castings their company color right out of the foundry and call it "done." JET is raising the bar by really paying attention to detail and aesthetics of their products. For example, he said that by simply spending $5 more for a quality metal knob instead of a cheap plastic knob can increase the perceived value of a tool by $100. That's pretty impressive.
They're also looking at the overall design and visual appeal of the tools in addition to their function and features. The 14″ band saw pictured here is one example. There are no exposed fasteners as you look at the front of the saw. The doors have pleasing curves rather than the bland square features of other saws. They're little things but I have to agree that they leave a positive impression of the quality of the tool.
And JET isn't forgetting about how well the tool works and functions. They're paying attention to details that make a difference in how the tool performs. One striking example is as simple as the location of the dust ports on the new band saw. They're located to catch the majority of sawdust before gumming up the tires on the wheels.
Finally, I learned that JET will be targeting a younger audience with its upbeat advertisements. They're also tweaking the design of the JET logo and will be experimenting with the trademark white paint color. All in all, JET/Powermatic is investing heavily in the woodworking market and I'm very interested to see how they revamp their product lines in the coming months and years.